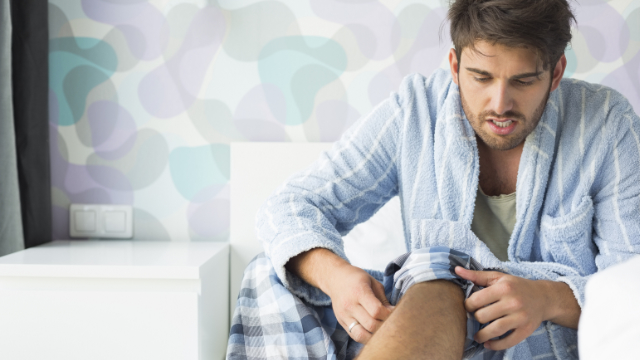 Physical therapy may be utilized either instead of or after surgery
The meniscus is a crescent-shaped piece of cartilage between the thighbone (femur) and the shinbone (tibia), and its job is to stabilize the knee and absorb shock. Damage to the meniscus, which is called a meniscal lesion, can occur from an injury or due to gradual changes over time, which come with age. Patients with meniscal lesions who have knee pain and difficulty performing daily activities may be given different treatment recommendations depending on what type of doctor they see. Some patients are told to follow a wait-and-see policy, in which they rest for a period of time and see if their condition improves. Physical therapy may be utilized during this time. For patients with extreme pain and for those that do not improve, surgery may be recommended instead to repair the damage in the knee. In many cases, patients are referred to a course of physical therapy after surgery to help them rehabilitate. Treatment typically consists of a series of exercises to reduce pain and inflammation and help restore their normal range of motion. Although this is an approach that's commonly recommended, it is not clear how effective exercise therapy is for these patients. Therefore, a powerful pair of studies called a systematic review and meta-analysis was conducted. The systematic review gathered all relevant research on exercise therapy and surgery for meniscal lesions, and the meta-analysis reviewed these all in detail to determine which approach is best for patients.
Nine medical databases searched for appropriate studies
To collect data for the review, researchers searched through nine major medical databases for studies on exercise therapy and surgery for meniscal lesions. Only randomized-controlled trials and controlled clinical trials—two types of powerful studies—that fit a set of criteria were accepted. This led to a total of 12 studies with data on 594 patients being accepted for the systematic review and meta-analysis. All studies were then analyzed and assessed for strength of evidence and risk of bias.
Exercise therapy found to have certain advantages over surgery
Overall, exercise therapy and surgery were found to lead to similar outcomes in knee pain, function, and performance for patients with meniscal lesions. Exercise therapy, however, was more effective for improving muscle strength than surgery after a short period of time. In addition, exercise therapy was found to be more effective than no treatment at all for muscle strength and performance in the short term. In the long term after surgery, exercise therapy was also more effective than no treatment on patients' ability to function normally. Taken together, this suggests that patients who have surgery for meniscal lesions can benefit from exercise therapy after the procedure is performed. More research is needed to investigate this topic in greater detail, but it appears that exercise therapy can be considered an alternative option to surgery for treating meniscal lesions, and it may lead to similar overall results.
-As reported in the April '16 issue of the Journal of Science in Medicine in Sport